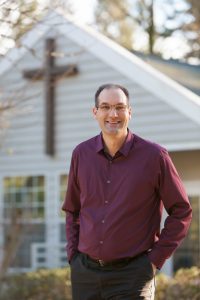 "I'm so glad you're checking out life here at Bear Creek Community Church.  We are thrilled that God has called us together to serve him in this community and that we get to follow Jesus together.  My hope and prayer is that you would know and experience the incredible love God has for you.  Please let me know if you would like to connect sometime."
-Pastor Mike San Martino
Our Mission Statement
Bear Creek Community Church
is a Caring Church Family
whose Mission is to Love People
on their Journey toward Jesus.
Our Vision Statement
To Know and Worship God
To Mature in Faith and Love
To Make Jesus Christ Known
Frequently Asked Questions
What should I wear?

A. Wear what is comfortable for you. You will see people in dresses, slacks, jeans, and shorts.

Will I be expected to give to the Offering?

A. Please do not feel obligated to participate in the offering when the plate is passed. The offering is intended for our regular attenders who consider Bear Creek to be their church home. We do not want your money. We want your presence.

What is the music like?

A. It is mostly contemporary songs and choruses, and occasional hymns. Our music is led by a worship team comprised of vocalists, 1-3 guitars, a piano, and drums.

Is there childcare?

A. Yes. We have a nursery for babies up to age 2, and a toddler class for 2's and 3's. Children age 4ththrough 6th grade begin the service with their parents, and are excused to Kids On the Rock half way thru to enjoy a time of worship and teaching for their age level.  Also, Doodle Bags filled with colored pencils and activity papers are in the sanctuary for your children's use during the service. These are applicable for ages 2-6 and 7-12.

Do you have Communion?

A. We celebrate Communion the first Sunday of each month.

Who can participate in Communion?

A. We invite all who have professed faith in Jesus Christ to join us. You do not need to be a member of the church to take communion.