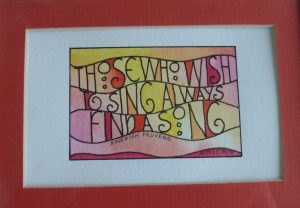 Over the course of eight weeks, 10 participants will meet every other Monday evening from 7-9pm for art, fun, laughter, and discovery.  Colored pencil artist, Renae Hoey, will be teaching sessions on drawing and using colored pencil.  Kay Lewis will introduce watercolor through making a watercolor journal, and then introduce acrylic paint techniques as you complete exercises on boards and canvas panels.
Eight weeks of fun and only $30 with all supplies provided.  Is it really possible?  YES!  Art Attack is a safe place for fun, play discovery, and experimenting.  No previous art experience is necessary and perfectionism is highly discouraged!! It is open to adults and kids at least 12 years old if accompanied by an adult.   Art Attack fills fast.  The first session is January 16th, 7-9pm.
   Forms can be picked up outside the church's main entrance during the week or downloaded here: 2023 registration form.  Fill out the registration form, attach a check for $30 (made out to BCCC), and drop it in the church mailbox at the driveway entrance or mail to church address below.
Bear Creek Community Church  --  18931 NE 143rd Street, Woodinville, WA.
If you have any questions, call the church office (425-861-9005), or email to:  office@bccc.org.